Romain Dutter author's residency
15 October 2021
modifié le 15 October 2021
In the same section
Published on October 15, 2021
–
Updated on October 15, 2021
From October 2020 to June 2021, Romain Dutter, a comic strip author/scriptwriter was author-in-residence at the Institut des Hautes Études de l'Amérique latine (IHEAL) on Campus Condorcet, for his comic book project on Latin America. His residency was backed by the Région Île-de-France.
Romain Dutter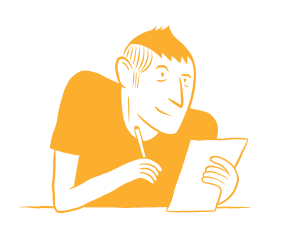 Romain Dutter by Bouqé - © Bouqé Romain Dutter par Bouqé Following his studies in cultural mediation and communication, then in international cooperation (supplemented by a Diploma in Latin American Studies at IHEAL), Romain Dutter spent several years working for NGOs and international charities in France and abroad, mainly in Latin America.
In 2008, he was hired by the Fédération d'Éducation Populaire Léo Lagrange as cultural coordinator at Fresnes Prison (Val-de-Marne), one of the largest and oldest prisons in France. For ten years, he strived to facilitate access to culture for prison inmates, by setting up various cultural activities, shows, performances and literary events.
Romain Dutter drew on this experience for his first graphic novel, illustrated by the cartoonist Bouqé and published by Editions Steinkis in September 2018: Symphonie carcérale, petites et grandes histoires des concerts en prison (Prison symphony, short and long stories of concerts behind bars), a humourous yet uncompromising account of his daily battle for prison inmates to have access to cultural activities.
When his first comic book was published, he decided to become a full-time comic strip writer. Following Symphonie Carcérale, he has just finished working on Goodbye Ceausescu, road-trip en Roumanie 30 ans après la « Révolution » (Goodbye Ceausescu, a Romanian road-trip 30 years after the revolution), once again illustrated by Bouqé, to be published by Editions Steinkis in the third quarter of 2020. He has also authored a cartoon adaptation of Sorj Chalandon's second-to-last novel Le jour d'avant (The day before - Grasset, 2017), which revisits the Lieven mining catastrophe on 27 December 1974. It will be published by Editions Steinkis in September 2021.
In the summer of 2020, he received funding from the Région Île-de-France for an author's residency hosted by IHEAL on Campus Condorcet.
The residency
Dutter devoted his 10-month residency, from October 2020 to June 2021, to his fourth graphic novel, which will focus on Latin America and his special relationship with this continent. He has traveled there many times to work among farming communities in the Andes, at street libraries in Peru, at a Cultural Centre in Central America and even in a Honduras prison. Incidentally, he also studied at IHEAL during the 2005-2006 academic year.
The aim of this residency was to cultivate and broaden his ideas, to amass the material he needed to write the scenario, and in exchange to host workshops in the Seine-Saint-Denis region. IHEAL and the Campus made sure that he had everything that he needed to make these sessions a success. During this period, he hosted around ninety writing and cartoon workshops for various groups:
IHEAL students
Pupils from the Makeba secondary school in Aubervilliers: he worked with two Year 9 classes during their Spanish lessons and one Year 10 class
Teenagers at the Don Quichotte media library in Saint-Denis
"Impeded" persons at the Roser Social Centre in Aubervilliers.
In the same section